| | |
| --- | --- |
| Name: | Svetlana |
| Age: | 64 |
| Height: | 158 cm = 5'2'' |
| Weight: | 62 kg = 136.7 lbs |
| User ID: | 01056 |



06.12.2015
HAPPY HOLIDAYS WITH FAVIA DATING CLUB
Dear clients! Happy holidays of Christmas and New Year are coming up very soon. We all would like to make dreams and wishes come true at this magical time. Every year Favia team makes a holiday sugge



03.01.2016
Happy Holidays!!!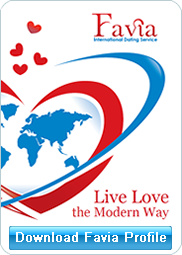 Lucien, USA
Hello Lillia~ All is well with me since my return to the States. I so much enjoyed my visit in Poltava with my Lady friend- your office did a great job in offering and providing support for my arrival and stay. I had a terrific introduction with the Lady I had been writing for so long. Your translator worked at quite a proficient skill level . She has the right kind of neutral and friendly personality to optimize development of the relationship with my Lady I am interested in. The apartment you provided was of an outstanding quality and in a great location, as well as an honest value. I will look forward to returning again - there are many interesting things to do and places to visit in Poltava. Your town has a very relaxing and comfortable pace. I found all the people I met there friendly and easy to relate to. I would recommend your agency to any friend of mine seeking to make an introduction with one of your clients. Your honesty and reliability is very evident. I also found my stay in Poltava very affordable as compared to other places I have visited. thanks again for all your efforts on our behalf- sincerely, Lucien
10.06.2009

Atif
It is a good opportunity to say thanks for all your team in the lovely agency with helpful employees. I have not faced any difficulties in my trip. and I met with a nice and beautiful lady. Interpreter was nice with us (Anna). My trip to Poltava was good too with a professional driver and nice lady (Alina) she also help me with everything and arranged all events. So thank you guys for everything that have been done to me. Now all my thinking is about our future and what we will end up in our journey... Thanks a lot! Atif, Saudi Arabia
Sergio Carlo Oleari
Per quanto riguarda agenzia tutto bene, servizio perfetto , sono stato assistito dall arrivo in aereoporto, bene il servizio traduttore .