| | |
| --- | --- |
| Name: | Tatiana |
| Age: | 38 |
| Height: | 170 cm = 5'7'' |
| Weight: | 57 kg = 125.7 lbs |
| User ID: | 01311 |



06.12.2015
HAPPY HOLIDAYS WITH FAVIA DATING CLUB
Dear clients! Happy holidays of Christmas and New Year are coming up very soon. We all would like to make dreams and wishes come true at this magical time. Every year Favia team makes a holiday sugge



03.01.2016
Happy Holidays!!!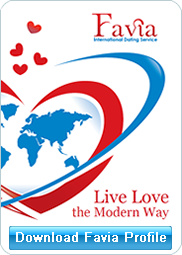 Elena&Richard
Hello! I have joined this service a long time ago, hoping to find my love. And I did. His name is Richard, I liked his warm eyes and sincere smile. Step by step, letter by letter we realized – we had so much in common. In a few months I had a chance to see him. We had seven days for two of us. We walked along beautiful streets and parks of Poltava talking and enjoying each other's company… Those days were wonderful, I did not want them to end, enjoying every moment of being next to Richard… Second meeting made both of us realized how much we needed each other. We engaged and applied for K-1 visa and petition will come soon. Richard is a man I was searching for all my life. He cares about my son and me. My heart belongs to this man, I want to be with him for all my life looking at the eyes that captured my heart… I am happy to have a chance to say "Thank you" to everyone who has helped us and who is helping us now. Thank you for giving us a chance to find each other, thank you for a chance to be happy … A lot of people seeking for soul mates here… And I know one day they will be lucky. Believe me, everything is possible and your dreams can become your life one day…
Sincerely, Elena

Sergio Carlo Oleari
Per quanto riguarda agenzia tutto bene, servizio perfetto , sono stato assistito dall arrivo in aereoporto, bene il servizio traduttore .
Philippe
It was my first visit to Ukraine, my first date, first lady, and I found people very kind. Thank you for the travel between Kharkov and Poltava. I had only one problem; I was late for the meeting with Tatiana. The interpreter was very good, and all was good. My meeting with lady was wonderful! I have good feeling with this agency and with lady also. I think, that lady was shy a little, but it was normal, because she didn`t know me. All was good for me.