| | |
| --- | --- |
| Name: | Svetlana |
| Age: | 39 |
| Height: | 170 cm = 5'7'' |
| Weight: | 73 kg = 161 lbs |
| User ID: | 01401 |



06.12.2015
HAPPY HOLIDAYS WITH FAVIA DATING CLUB
Dear clients! Happy holidays of Christmas and New Year are coming up very soon. We all would like to make dreams and wishes come true at this magical time. Every year Favia team makes a holiday sugge



03.01.2016
Happy Holidays!!!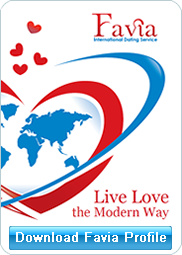 Laurent, France
Dear Lilia, I come to thank you for the organization from my stay with Poltava. The apartment was very pleasant. The organization of the meetings was perfect thanks to Taya, pleasant young woman always smiling, nice, patient and very effective in its work. Lastly, I had the chance to have as interprets, Oksana. Young woman particularly sympathetic nerve, of pleasant company, very qualified and conscientious in its work. I would like Lilia, that you thank Oksana and Taya to have offered a very pleasant stay to me to Poltava. Concerning my meetings, the future seems to me rather dubious. It is sometimes difficult to know and especially to understand the desire of the women. But that, you can nothing there! I find that the prices that you practice are very correct. You offer a true high quality service, with a qualified personnel. If I then to give you a Lilia council, remain in this way, open you a site in France and French and preserve your tariffs with the same service. The men know very well that you cannot ensure to find a woman to them! They ask simply an important choice, warm welcome, which is already the case. And also a French interpreter speaking… Thank you very much Lilia Cordially Laurent

Sergio Carlo Oleari
Per quanto riguarda agenzia tutto bene, servizio perfetto , sono stato assistito dall arrivo in aereoporto, bene il servizio traduttore .
Philippe
It was my first visit to Ukraine, my first date, first lady, and I found people very kind. Thank you for the travel between Kharkov and Poltava. I had only one problem; I was late for the meeting with Tatiana. The interpreter was very good, and all was good. My meeting with lady was wonderful! I have good feeling with this agency and with lady also. I think, that lady was shy a little, but it was normal, because she didn`t know me. All was good for me.