| | |
| --- | --- |
| Name: | Elena |
| Age: | 37 |
| Height: | 168 cm = 5'6'' |
| Weight: | 60 kg = 132.3 lbs |
| User ID: | 00940 |



06.12.2015
HAPPY HOLIDAYS WITH FAVIA DATING CLUB
Dear clients! Happy holidays of Christmas and New Year are coming up very soon. We all would like to make dreams and wishes come true at this magical time. Every year Favia team makes a holiday sugge



03.01.2016
Happy Holidays!!!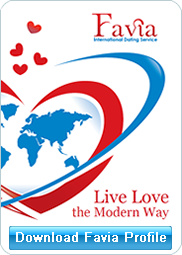 Barry, USA
Hello Lilia, I just wanted to drop you a line and say thanks for help making my last visit to see my lady such a pleasure. As usual Sergei was at the airport waiting which meant no problems getting to Poltava. Being in the same apartment allowed me to re-orient to my surroundings with no problems. The new service with the cell phone is a great idea; because it kept me in touch with my lady, interpreter and the office as needed. However, I want to thank my interpreter Oksana. I want you to know how valuable she has been to Olya and me and the development of our relationship. Through all of her translations of our letters, interpreting our conversation and insights into our personalities, she has allowed Olya and I to get to know each other; and facilitated our understanding of each other. When she interpreted between Olya's father and mother and me, she turned a potentially stressful and anxious time into a very relaxed and positive atmosphere for all of us. I would go as far as saying that without Oksana there would not be such a strong relationship for Olya and me. So I will again say thank you and that I am looking forward to seeing Poltava again.
All the best,
Barry

Atif
It is a good opportunity to say thanks for all your team in the lovely agency with helpful employees. I have not faced any difficulties in my trip. and I met with a nice and beautiful lady. Interpreter was nice with us (Anna). My trip to Poltava was good too with a professional driver and nice lady (Alina) she also help me with everything and arranged all events. So thank you guys for everything that have been done to me. Now all my thinking is about our future and what we will end up in our journey... Thanks a lot! Atif, Saudi Arabia
Sergio Carlo Oleari
Per quanto riguarda agenzia tutto bene, servizio perfetto , sono stato assistito dall arrivo in aereoporto, bene il servizio traduttore .