| | |
| --- | --- |
| Name: | Natalia |
| Age: | 39 |
| Height: | 173 cm = 5'8'' |
| Weight: | 61 kg = 134.5 lbs |
| User ID: | 00584 |



06.12.2015
HAPPY HOLIDAYS WITH FAVIA DATING CLUB
Dear clients! Happy holidays of Christmas and New Year are coming up very soon. We all would like to make dreams and wishes come true at this magical time. Every year Favia team makes a holiday sugge



03.01.2016
Happy Holidays!!!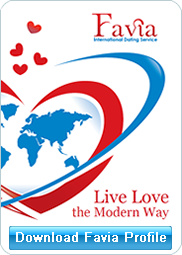 Christian, France
Je n'ai pas eu assez oe temps foun connaitres les filles. elles n'etais pas tousouns disponiones je n'ai vue la fille ave 2h pan jouns c'est trop peu.

Sergio Carlo Oleari
Per quanto riguarda agenzia tutto bene, servizio perfetto , sono stato assistito dall arrivo in aereoporto, bene il servizio traduttore .
Philippe
It was my first visit to Ukraine, my first date, first lady, and I found people very kind. Thank you for the travel between Kharkov and Poltava. I had only one problem; I was late for the meeting with Tatiana. The interpreter was very good, and all was good. My meeting with lady was wonderful! I have good feeling with this agency and with lady also. I think, that lady was shy a little, but it was normal, because she didn`t know me. All was good for me.