| | |
| --- | --- |
| Name: | Elena |
| Age: | 45 |
| Height: | 164 cm = 5'5'' |
| Weight: | 64 kg = 141.1 lbs |
| User ID: | 01139 |



06.12.2015
HAPPY HOLIDAYS WITH FAVIA DATING CLUB
Dear clients! Happy holidays of Christmas and New Year are coming up very soon. We all would like to make dreams and wishes come true at this magical time. Every year Favia team makes a holiday sugge



03.01.2016
Happy Holidays!!!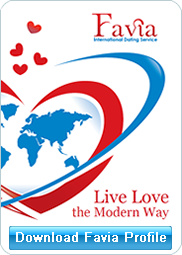 Barry, USA
Good Morning Lilia, I just wanted to send you a note of congratulations for your and Favia's 5 year anniversary and to wish you another 5 years of success and prosperity. I also want to personally thank you for all the help you have given me in the 4 years that I have been coming to see my lady. You have been instrumental in our relationship beginning and then progressing to where we are today. You have always been willing to help me to make the arrangements for a place to stay and getting me to Poltava and back. For that and many other reasons, I will always be very grateful and indebted to Favia in general and to you specifically. There is someone else that also deserves a huge thanks and that is to Oksana. It is because of her that my lady and I could communicate and build our relationship. She has made every effort to help me to understand not only the culture of Ukraine and thereby my lady and her family but also has been a great source of information on Ukrainian history and I have always gotten much from her insights. So please pass along my thanks to her as well. Again Lilia, all the best to you after so much hard work and effort on your part. I look forward to seeing you in May.
Barry
10.04.2011

Sergio Carlo Oleari
Per quanto riguarda agenzia tutto bene, servizio perfetto , sono stato assistito dall arrivo in aereoporto, bene il servizio traduttore .
Philippe
It was my first visit to Ukraine, my first date, first lady, and I found people very kind. Thank you for the travel between Kharkov and Poltava. I had only one problem; I was late for the meeting with Tatiana. The interpreter was very good, and all was good. My meeting with lady was wonderful! I have good feeling with this agency and with lady also. I think, that lady was shy a little, but it was normal, because she didn`t know me. All was good for me.