| | |
| --- | --- |
| Name: | Elena |
| Age: | 41 |
| Height: | 168 cm = 5'6'' |
| Weight: | 60 kg = 132.3 lbs |
| User ID: | 00940 |



08.04.2019
Engagement in our dating agency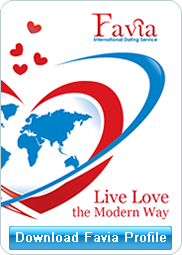 Events
2019-04-09
Happy Birthday To Us!
Today is a very special day for us – Favia Dating Agency is turning 13 years old! Happy Birthday to us!!! Every day we are doing our best to help lonely people find their true love, their soul mates, create a family and live through many adventures together. Our Birthday is full of joy and wonderful memories of the couples we created. We love connecting the hearts and reminding people that true love exists and everybody deserves it!

We are very thankful to each and every one of you for the endless support and loyalty you are showing us every day! We truly appreciate our warm-hearted readers. So join us in our wonderful celebration of another year, full of exciting moments, filled with love!