| | |
| --- | --- |
| Name: | Lyuba |
| Age: | 36 |
| Height: | 165 cm = 5'5'' |
| Weight: | 54 kg = 119.1 lbs |
| User ID: | 01527 |



08.04.2019
Engagement in our dating agency



09.04.2019
Happy Birthday To Us!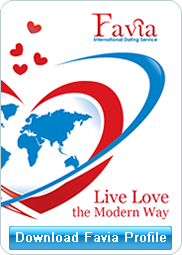 Michael, USA
I am writing a Testimonial about the services of Favia. I am at such a loss for words, because, I do not know where to begin. Here I go. I traveled to Ukraine 7 times in 2 years. Never having traveled out of the country before, I was a little apprehensive. I knew the only way to know the lady I was interested in, was to travel to see her. Once I decide when and where I was going to go, I was contacted by Lilia. ( of Favia ). We contacted each other several times. I asked many questions and Lilia offered her expert opinions. Upon my arrival in Kiev, Lilia was waiting with a sign with My name on it. That was the beginning of the best adventure of My life. Lilia had every detail covered on my trip. I was in Poltava for 3 weeks. Unfortunately, my rendezvous with the lady did not work out. Lilia to the rescue. She helped me with meeting a few more ladies. During My hours of waiting for the ladies, I was fortunate enough to meet and communicate with all the translators at Favia. They were all very professional and treated Me like a King. I truly hated to leave Poltava when My time was up. I planned another trip to Poltava three months after my first trip. To visit a lady I had met on the first trip. The lady was unavailable. Lilia to the rescue. Two weeks before the trip, I contacted Lilia about meeting more ladies. Mission accomplished this time. My wife and I met on this trip. I visited Poltava 5 more times in a year and a half. Favia ( Lilia and Sergey ) Handled all my accommodations every time I went to Poltava. I cannot say enough about the professionalism and the friendliness of all the Favia team. I recommend Favia for all Your dating needs. I would gladly have anyone contact me with questions about my wonderful trip at pospayne.cox.net. I could go on for many hours talking about the many wonderful things that I experienced with the Favia team. Sincerely,
Michael


Atif
It is a good opportunity to say thanks for all your team in the lovely agency with helpful employees. I have not faced any difficulties in my trip. and I met with a nice and beautiful lady. Interpreter was nice with us (Anna). My trip to Poltava was good too with a professional driver and nice lady (Alina) she also help me with everything and arranged all events. So thank you guys for everything that have been done to me. Now all my thinking is about our future and what we will end up in our journey... Thanks a lot! Atif, Saudi Arabia
Sergio Carlo Oleari
Per quanto riguarda agenzia tutto bene, servizio perfetto , sono stato assistito dall arrivo in aereoporto, bene il servizio traduttore .